Love in Full Color: Planning a Rainbow-Themed Wedding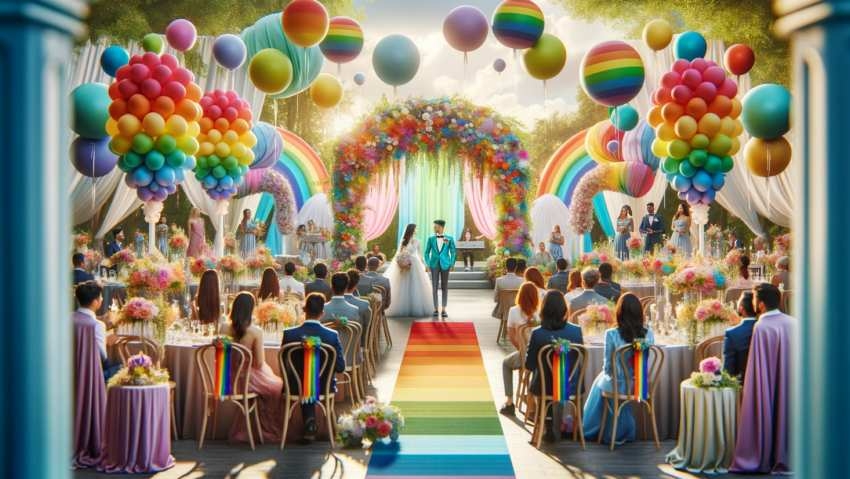 Weddings, man. They're all about love, commitment, and that special feeling you get when you look into your partner's eyes and think, "I'm gonna spend the rest of my life with this crazy, beautiful creature." And what better way to celebrate that love than by throwing the most colorful, vibrant, and eye-popping rainbow-themed wedding imaginable? I'm talking about a wedding that's like a psychedelic trip through a kaleidoscope of happiness and joy, minus the illegal substances, of course.
Choosing the Right Venue
First things first: you need a venue that's gonna complement your technicolor dreamscape. Think about it like this: if your wedding is a canvas, the venue is the frame that holds it all together. You don't want some drab, lifeless location to dampen the spirit of your rainbow extravaganza. So, when searching for the perfect venue, keep an eye out for spaces with lots of natural light, lush greenery, and maybe even a water feature or two. And if you can find a spot with a killer view of the sunset, well, that's just the cherry on top of your multicolored sundae.
Incorporating the Rainbow into Your Decor and Attire
Now, let's talk about how to incorporate that rainbow theme into the decor and attire. The key here is not to go overboard - you don't want your guests feeling like they've walked into a Skittles commercial. Instead, try to find a balance between subtle and bold pops of color. For example, when it comes to table settings, you could use vibrant tablecloths with more toned-down napkins and centerpieces. Or, if you're feeling really daring, you could even have tables decked out in different colors of the rainbow, creating a spectrum effect throughout the room. As for attire, you've got plenty of options. For a more traditional look, consider incorporating the rainbow into accessories like ties, pocket squares, and socks for the groomsmen, and colorful bouquets, hair accessories, or even shoes for the bridesmaids. If you're looking to make a bolder statement, you can go all out with multicolored dresses and suits for your wedding party. And let's not forget about the bride and groom. A rainbow-themed wedding is the perfect opportunity to break away from the traditional white dress and black suit. Why not add a splash of color with a vibrant sash, a statement necklace, or even colorful hair highlights? And for the groom, a colorful suit or a patterned shirt could be just the ticket.
Creative Rainbow Food and Drinks
One of the best ways to incorporate the rainbow theme into your wedding is through your food and drinks. Imagine your guests walking into the reception and being greeted by a mouthwatering array of colorful dishes and beverages. It's like a culinary trip to Oz!
Rainbow sushi rolls: Fill these tasty bites with colorful veggies, fish, and even edible flowers for a unique and eye-catching appetizer.
Fruit and veggie platters: Arrange a variety of colorful fruits and veggies into a rainbow pattern for a healthy and visually stunning snack.
Colorful cocktails: Create custom cocktails using colorful ingredients like grenadine, blue curacao, and different fruit juices. You can even add a little pop of color to your champagne with a splash of fruit puree or a colorful sugar rim.
Rainbow cake: This one's a no-brainer. A cake with layers of vibrant, different-colored sponge is a must-have for your rainbow-themed wedding.
Fun and Colorful Entertainment Options
Now that you've got the decor, attire, and food covered, it's time to think about entertainment. This is where you can really let your imagination run wild and create a festive atmosphere that's bursting with energy and color. Imagine a live band decked out in colorful attire, or a DJ with a light show that transforms the dance floor into a rainbow wonderland. And if you really want to take things up a notch, consider hiring performers like stilt walkers, jugglers, or acrobats to add an extra layer of excitement to your celebration. Remember, the key to a successful rainbow-themed wedding is to embrace the colors and let your creativity shine. By finding the perfect balance between vibrant hues and elegant touches, you'll create a memorable, one-of-a-kind experience that celebrates your love in the most colorful way imaginable. So go forth, my friends, and let your love shine bright like a rainbow.