Aisle of Style: Fashion Tips for the Avant-Garde Bride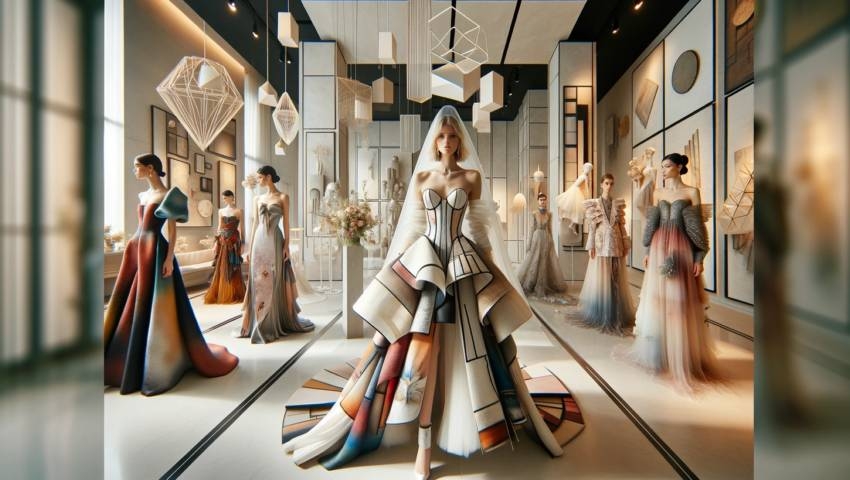 Forgoing the Traditional White Gown
Why must a bride be a ghostly specter floating down the aisle, a vision of utter purity and innocence? Hogwash, I say! The avant-garde bride is a woman who leaves behind the expected and steps into the world of the novel and the bizarre. To truly make a statement, consider donning a bold color for your matrimonial frock. A deep, sultry scarlet, a vibrant emerald green, or perhaps a regal, royal purple. Or, if color feels too daring, consider a pattern – stripes, polka dots, or even a daring leopard print. The world is your oyster, and it's time to paint the town crimson… or any other hue that strikes your fancy.
Breaking the Mold with Accessories
Why should your ears be adorned with the same measly bits of sparkle as every other bride? Break free from the chains of convention and adorn yourself with accessories that are uniquely you. Consider a statement piece of jewelry, such as an oversized necklace, a pair of daring chandelier earrings, or even an unconventional brooch pinned to the bodice of your gown. And what bride would be complete without a veil? But instead of the white, gauzy fabric we've all come to know and yawn at, consider a bejeweled headpiece, a vintage-inspired birdcage veil, or even a cleverly arranged assortment of butterflies on a hair comb. And remember, the sky is the limit when it comes to your choice of footwear. Sneakers, combat boots, or even roller skates can make for a memorable and stylish trip down the aisle.
Embracing the Unusual in Hair and Makeup
The avant-garde bride is not one for a demure updo and rosy cheeks. Instead, explore the world of the unexpected. Try a daring hairstyle – perhaps a bold, jet-black bob or an intricate braided creation that defies gravity. Or, if you have the nerve, why not shave your head for the truly audacious look? When it comes to makeup, the sky is the limit. Consider metallic lipstick, a smoky eye so smoky it would make a chimney sweep jealous, or glittering, other-worldly highlighter that makes you appear as though you've descended from a celestial plane.
Be fearless in your choice of gown color or pattern
Select accessories that make a statement and reflect your unique personality
Experiment with bold hairstyles and makeup looks
Creating a Couture Experience with Your Wedding Party
The avant-garde bride need not be alone in her quest for the extraordinary. Invite your wedding party to join in on the fun by encouraging them to choose their own attire, with only a color or theme as a guideline. Or, for the truly daring, assign each member of your party a specific avant-garde style icon to emulate – think Björk's infamous swan dress or David Bowie's otherworldly stage ensembles. To keep things cohesive, provide your party with matching accessories, such as color-coordinated Converse sneakers or identical neon sunglasses. And remember, the more outlandish the better – after all, it's your day to shine.
Putting the Fun in Functional with Quirky Practicalities
And just because you are the avant-garde bride, doesn't mean you have to forgo practicality. There are plenty of ways to express your unique style while still providing a comfortable and enjoyable experience for your guests. Consider providing each guest with a parasol in your wedding colors for an outdoor ceremony, or kitschy customized hand fans to help them keep cool. Or, for the reception, provide an eclectic assortment of chairs and seating options that range from ornate velvet settees to bean bag chairs – why not make your guests comfortable in the most unexpected of ways?
Leaving a Lasting Impression
The avant-garde bride is not one who will fade into the annals of matrimonial history as a cookie-cutter, conventional bride. Embrace the unique, the daring, and the downright strange to ensure that your wedding is a day that will be remembered and spoken of for years to come. When all is said and done, you will have forged your own path down the aisle and emerged as the truly extraordinary bride you were always meant to be.