A Hitch in Time: Planning a Time-Travel Themed Wedding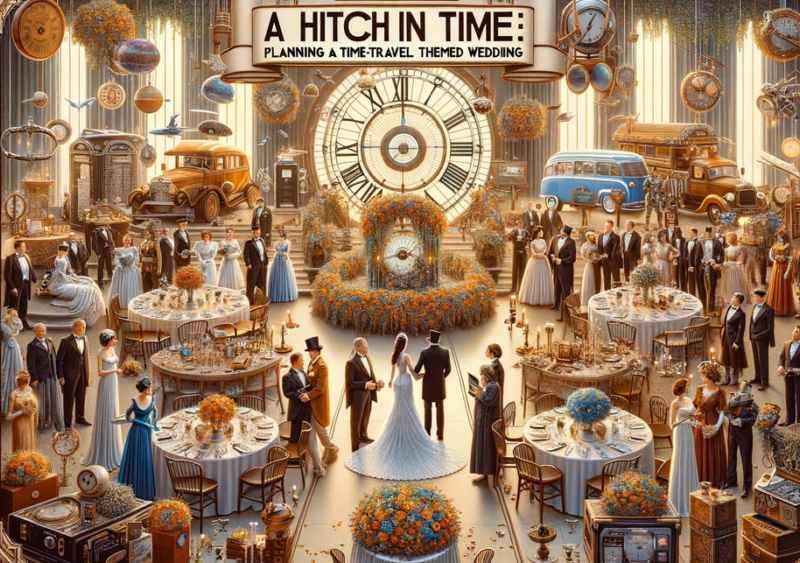 Time-travelling into matrimony
Do you and your partner share a love for all things time-travel? Are you eager to transform your upcoming nuptials into an experience that transcends time and space? If so, my fellow time travellers, this article is just for you! Embrace your inner Doctor Who or Marty McFly and allow yourself to be transported into the world of time-travel themed weddings, where love truly conquers all dimensions. Read on for valuable insights and practical advice that will make your time-travel themed wedding the most fantastic and memorable event your guests will have ever attended.
Choosing a time-travel themed venue: step back in time
The journey starts with selecting the perfect venue that embodies the essence of your chosen era. Whether you're opting for the Roaring Twenties, the Victorian Era, or even the futuristic year of 2045, let your imagination run wild. Consider venues with historic architecture, vintage accents, or futuristic design elements, such as a steampunk museum, an old castle or an art deco theatre. Don't be afraid to go the extra mile and incorporate time-travel elements into your seating plan. For example, why not place guests at tables named after famous time travellers or time machines, such as H.G. Wells' Time Machine, Hermione Granger's Time-Turner, or even the TARDIS?
Costume party, anyone? Dress code to the rescue!
A critical component of any time-travel themed wedding is the dress code, which gives your guests the opportunity to immerse themselves entirely in your chosen era. Encourage your guests to don their finest vintage garb, steampunk goggles, or futuristic jumpsuits, depending on your chosen time period. This not only adds an authentic touch to your wedding, but also makes for fantastic photo opportunities that will be cherished for generations to come. As for the bride and groom, your wedding attire should be a reflection of your time-travel passion. From Victorian lace to a suit made entirely of pocket watches, the possibilities are endless. Just remember to maintain a sense of elegance and sophistication, as this is still your wedding day, after all.
Flower power: botanical arrangements through time
When it comes to floral arrangements, think outside the box and consider incorporating flowers that were popular during your chosen era. For example, if you're planning a Victorian wedding, go for roses, lilies, and orchids. If you're leaning towards a futuristic theme, opt for exotic and unusual flowers, such as proteas or air plants. The key is to blend the style of your bouquet and centerpieces with the overall aesthetic of your wedding.
Time-travelling tunes: music from across the ages
One of the most effective ways to transport your guests through time is via the power of music. Work with your DJ or band to create a playlist that captures the essence of your chosen era. Why not start with classical music from the Baroque period during the ceremony, then move on to jazz and swing during cocktail hour, and finally end the night with disco and electronic dance music? The goal is to create a sonic journey through time that keeps your guests entertained and engaged throughout the entire event.
Whet your appetite: era-appropriate dining
Just as with music, the food and drink you serve should evoke the spirit of your chosen time period. Research the popular cuisine and beverages of the era, and work with your caterer to create a menu that truly transports your guests to another time and place. In addition to standard wedding fare, consider adding era-specific dishes to your menu, such as Victorian-era tea sandwiches, 1920s-inspired cocktails, or futuristic molecular gastronomy creations. The culinary possibilities are as boundless as time itself.
Timeless mementos: wedding favors with a twist
Finally, make sure your guests leave your wedding with a keepsake that evokes the magic of your time-travel themed wedding. Ideas could include vintage pocket watches, steampunk-inspired trinkets, or even futuristic gadgets. The key is to select a favour that not only captures the essence of your chosen era but also serves as a reminder of the love and laughter shared on your special day. And there you have it: a comprehensive guide to planning the time-travel themed wedding of your dreams. With an emphasis on creativity, authenticity, and attention to detail, your wedding will surely be an unforgettable experience that transcends time and space. Now, let the time-travelling commence!